EVA quality
EVA is high-quality costume jewellery and accessories that are sold under its own brand and only in our outlets. It is hard to distinguish the EVA adornments from fine jewellery due to its clear, solid and shining like precious gems Austrian crystals Stellux* and natural gold, silver and platinum plated metal.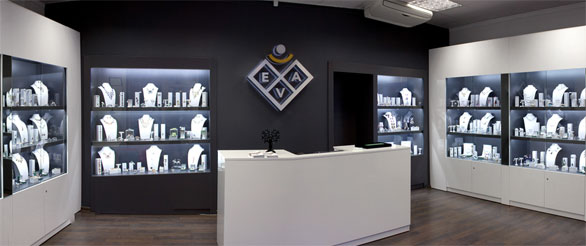 When used carefully, the EVA adornments last for many years maintaining its gorgeous appearance. For greater durability, it is recommended to keep the adornments separately from others.
The Stellux crystals are made with technologies patented by the company Swarovski —these are traditional crystals that have been produced for many in the traditional form and cut.
These crystals are durable: they do not lose their lustre. The distinctive features of the Stellux crystals are an absolute accuracy of forms, gorgeous and unique cut, and brightness and harmony of colours and sizes varying from the smallest to the largest stones.
The crystals are made from optical lead glass that provides a maximum refraction index. The base of the adornments is made of a special jewellery alloy consisting of copper and zinc. The alloy does not contain nickel with the purpose of prevention of allergic reactions.